Lamb Chiropractic Clinic Ltd
Howard Lamb D.C.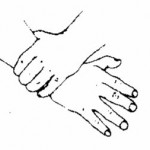 The Surgery, 48 Marsh Road, Pinner, Middlesex, HA5 5NQ
020-8866-3230/020-8866-8018
6th May, 2016
Dear Satjit,
I was very pleased to read about the upgrades the BCA have made regarding litigation and GCC complaints. Hopefully after each case someone will check if the result was correct and see what lessons were learned. Then the structure would be complete – total quality control.
I am afraid that I am not the tea and sympathy type so cannot help out with your 12 counselling vacancies. However, if you would like me to look at past lost cases and see if any other scams are visible, it would be my pleasure.
The main reason for this letter is Bupa. It would seem they want my Practice Manager to do their administration at my cost. I have pretty much been told 'that's how it is and if you want to be with Bupa you have to toe the line.' (I'm not very good at that I'm afraid.) My Practice Manager has spoken with Bupa, at my expense, but they do not seem to have been truthful at all. I myself had a chat with Dan Beresford from Customer Services who followed their corporate line of 'like it or lump it.' They were told last year that we were planning to increase our fees and we were assured that this would be taken into account. This is now apparently not the case. From May I will be charging my patients £40.00 here per treatment, but for Bupa patients after doing all their paperwork and invoice procedure, and waiting 7-14 days to be reimbursed, I will only be paid £35.00. I am not happy. This is good business for the Bupa clients I was told.
If it weren't for the fact that most of my Bupa clients are old hands I would have told the CEO about my complaint. However, now that the BCA is looking after the members so well in other areas, I hope that you are making headway with Bupa. I cannot be the only one that this is affecting.
Please let me know if I can be of service regarding past cases. I have another 5 years to come back at our ex-insurers, and there could be others just like me. Also, if a resistance movement has started over Bupa, please let me know so that I can join.
Yours Sincerely,
Howard Lamb, DC