Lamb Chiropractic Clinic Ltd
Howard Lamb D.C.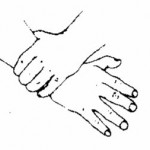 The Surgery, 48 Marsh Road, Pinner, Middlesex, HA5 5NQ
020-8866-3230/020-8866-8018
29th July, 2016
Dear Mr Howell,
Thank you again for another solicitor-type letter which does not cover any of the points that I have raised.
You were asked by me and my solicitor months ago for all your paperwork on Child X, and you refused, which is contrary to the Freedom of Information and Transparency Acts. There must be paperwork – you are a Government Department.
You have not at any stage shown why you feel exempt from Duty of Care.
My complaints are not based at this point in time on litigation. Normally this happens, as seen by our profession, after the complaints have been heard by the GCC/Privy Council. You have still not given me details of a complaints procedure other than in-house which you can influence. I must assume until told differently that one does not exist. You state that you will send correspondence to the chair of the Council although you do not say whether this is Privy Council or GCC. Obviously I have a right to see what you have sent or are sending. Please forward your letter and correspondence. Also please forward details by how and by whom the panel for appeal is put together to clarify the situation.
I have not heard from your Complaints Officer, which again is another complaint in itself. You have had over 2 months, then no adequate response. You had 10 working days to respond according to the GCC Complaints Policy. I have clearly complied with your complaints process, apart from the last line which says ''what you think we should do to put things right.'' Comply fully with the Chiropractic Act and have an Independent Complaints and Appeals process rather than in-house or another Government Department.
You seem to want to separate my CPD refusal and my complaint. If you had stood up for my rights as seen in the Chiropractic Act, to diagnose and refer, particularly after accepting that I diagnose and treat children with autism and cerebral palsy. We, and more importantly, the Child X and family, would not be in the position that we are in today.
Finally, you are aware of my high-functioning autism, dyslexia and computer-phobia yet you have not complied with any part of the disability legislation over the appeals process and other. Please arrange for your Disabilities Officer to phone me to explain to me what I have to do to comply with your conditions for an appeal. It is hardly a surprise that the profession passed a vote of no confidence on the GCC a while ago. I now fully understand why.
Please could you send me without delay all Child X and CPD paperwork, e-mails, and any correspondence about me for my appeal defence. I will be asking the BCA for the same. An extension may be necessary until I have received it all. I believe that I should be re-instated to the register until you have been cleared by the Disabilities Commission and finished your complaints procedure (if you have one.)Please advise me on who is your controller at the Privy Council. I am sure that they will be able to put me straight as to whether you are a lone wolf or just doing what you were ordered to do.
Kind regards,
Howard Lamb
DC, AC Royal College of Chiropractors