Lamb Chiropractic Clinic Ltd
Howard Lamb D.C.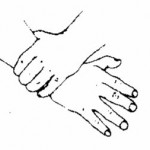 The Surgery, 48 Marsh Road, Pinner, Middlesex, HA5 5NQ
020-8866-3230/020-8866-8018
15th July, 2016
Dear Mr Howell,
I was clearly accepted on the register earlier this year. You cannot just change your mind and do what you want.
Please let me know where you would like your complaints to be heard, either Privy Council or GCC?
Yours sincerely,
Howard Lamb
DC