Lamb Chiropractic Clinic Ltd
Howard Lamb D.C.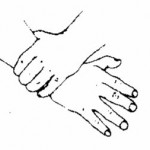 The Surgery, 48 Marsh Road, Pinner, Middlesex, HA5 5NQ
020-8866-3230/020-8866-8018
                                                                                                                                    18th August, 2015
Bernadette Martin, BSc Chiro, FMCA,
Chair of McTimoney Chiropractic Association
Dear Bernie,
Firstly I must thank you, the Association, colleges, and expert witness, for all the help and support you have afforded me over the last few difficult years, particularly over the insurer's side of the Flynn case and Child X. We must finally catch up to share our findings, me from the outside looking in, and you obviously in the middle. Please read a trilogy of e-mails on the subject to my negligence lawyer. From my side Stuart Taylor's insurers got a bit squirrelly and were probably naive at best, but with no criminal intent. Without a suitable gatekeeper they will be more vulnerable to scams like this one.
I do feel that there are enough grounds to check all qualifications of managers in control of current/past cases to make sure there is no chance of negligence, particularly the cases which probably should not have been lost (injustice scars). After all 'Assumption is the mother of all clusterf**ks', as I have seen repeatedly in the Child X case.
Dealing with two insurers, I feel that they would represent much of the industry as their actions were similar. They have no interest in fraud, as clearly seen, where's the profit in that? So fraud can run rife. Again, how can you correct a system that can't correct itself?
Stuart and I, as your members, were tied up for three years in a matter where we were innocent but were not allowed to prove it. Then everyone else is on an expense-paid jolly, even better if they are on a sure thing, and we are left counting the cost. I am sure this is not what we have been paying our premiums for. If the manager has not got the basic skill-sets to understand what they are dealing with, the whole thing becomes an expensive nonsense with the solicitors cleaning up again, as we have seen previously at the GCC.
If 60% of myelomas are diagnosed and 40% are not, lawyers see negligence. However if 60% are slow-burning and detectable which is why they were diagnosed and 40% are acute and come out of the blue with no chance of diagnosis there cannot be negligence (often diagnosed through luck rather than judgement.) Take Mr Flynn whose myeloma was clearly acute. This was in the hospital notes. It was most probably activated due to bone marrow/oseos damage after his heavy fall in the January where the x-rays show nothing but a gas bubble, (again in hospital notes), to total decimation in February, seen on an MRI. There was a high probability that a scan or x-ray would not have shown anything before January, maybe a week after the fall, other than cellular level. The opposition had been fully informed and then tried to pervert the course of justice, in my opinion. Whilst on the subject, I released a trigger point on Mr Flynn, which made him yelp, which stopped his T4 synaptic event caused by the physiotherapist and mentioned in his testament. I did not enter it in my notes because it was obviously soft tissue and solved the problem. Only if abnormal reaction had taken place would it be raised.
Child X is living in a tent in his mother's garden after being dumped on the streets by Herts County Council. Sarah-Jane's solicitors have been pushing hard and the case of one has been accepted by the Ombudsman whilst the other is working on a judicial review, having completed the Complaints Procedure, which was a disgrace and well-documented. Sarah-Jane has been on 3 Counties Radio as a warm-up to get her used to media. The BBC has been helpful.
My involvement with the case so far has been treatment, support and finance. With negligence hanging over me, and the BCA and GCC unable to support my right to diagnose and my right to refer, which was denied me, hence the tribunal. It would be difficult to defend it on an even playing field when viewed as 'some pratt who cracks necks, what can he know?' My lawyer is in contact with the GCC and we have been waiting for all notes back on Child X which I will forward to the Ombudsman at the right time.
Thirdly, the GCC are at it again I see. Hand-picking those they need to bias the decision-making process so that government targets on fitness to practice can be met. I feel that the profession should go through a period of non-compliance until the first Chiropractic Act and it's criteria are actually in place and functioning before we can see if it needs changing.
Please channel this information to the right places as potentially all clinicians could be affected in all professions. I have not communicated with the BCA, except through solicitors, as it is not clear whether they have been complicit, but their members need to know about their insurance company. Maybe the alliance could help you mediate for me, if you would be so kind.
Yours Sincerely,
Howard Lamb,
DC
PS Please share all with Christina, and what you want with who you want with the rest.